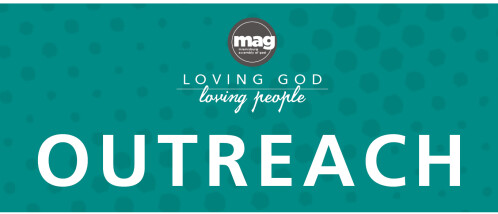 Outreach is one of our primary passions, directives, callings...
Reach our local community for Jesus!
Spring/Summer 2022 Strategic Outreach Plan
We're excited to get out of our walls and make an impact for Jesus in our neighboring community! The details are in the brochure here or please feel free to contact Pastor Dustin Renz or any of the church staff at or 937-384-7981 to get involved.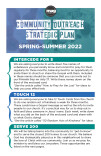 Click to see flyer
Here's a rundown of our Spring/Summer 2022 Outreach Schedule:
May 11, 18, 25
Wednesday Night Cookie Giveaway
We will be meeting at 6:30 and delivering baked Pillsbury cookies and information about our programs at the church to the homes surrounding our property. We will need help baking the cookies each week as well as a team to go door-to-door to meet our neighbors.
May 19
Mark Twain - Talent Show
The church is going to be hosting the annual talent show for Mark Twain. We want to have some volunteers involved with greeting the families and serving.
June 15
Pre-Service Grill Out
Join us as we host a cookout for the community before service on Wednesday, June 15. We will be grilling hot dogs on our property and inviting the neighborhood to come out. We will need help with setup and teardown as well as support meeting and greeting those who come by our property.
July 17
Friends Day
This will be a special Sunday service dedicated to ministering to our guests. Pray about who you can personally invite to this celebration. It's a great opportunity to bring friends, families and neighbors to a Sunday service.
July 23
Kid's Day in the Park
We are going to offer games and treats for the neighborhood kids at the Sixth and Pearl Playlot. Come join us for a chance to do something fun for the kids in our neighborhood and connect with their families.
August
School Supplies for Mark Twain
This is our annual giveaway of school supplies that our church provides Mark Twain Elementary for all the students and classrooms. Its such a blessing to be able to show God's love in a practical way to the families surrounding the church.
August 20
Back-to-School Bash
We will hosting our second annual Back to School event for Mark Twain students and families. We will have food, inflatables, games, prizes and much more. Volunteers will be needed to serve in various capacities as we bless Mark Twain Elementary.
---
INTERCEDE FOR 5
We are asking everyone to write down five names of unbelievers you personally know and commit to pray for them regularly for three months, believing God for an opportunity to invite them to church or share the Gospel with them. Included in these names should be someone that you can invite out to our Friends Day on July 17. Write these names down on the front of the enclosed card.
TOUCH 12
We are asking everyone to take 12 Touch Cards from the church to do one random act of kindness a week for three months. These cards have a Gospel message as well as the info to invite people to our church. It's a practical way for us to step out in faith and bless someone in Jesus' name. Each week, write down what you did on the back of the enclosed card and share with us what God is doing!
SERVE 200
We will be taking teams into the community to "get-to-know" and to serve the closest 200 homes to our church. We believe God has strategically placed us in this neighborhood to share the love of Christ with our community. Join us as we pray for, minister to and bless our Jerusalem. These opportunities are listed on the next pages.
Thank you to all who joined us to reach our community for Jesus. Now let's continue to pray, get involved and see souls make the decision to live a life of freedom through Jesus Christ!