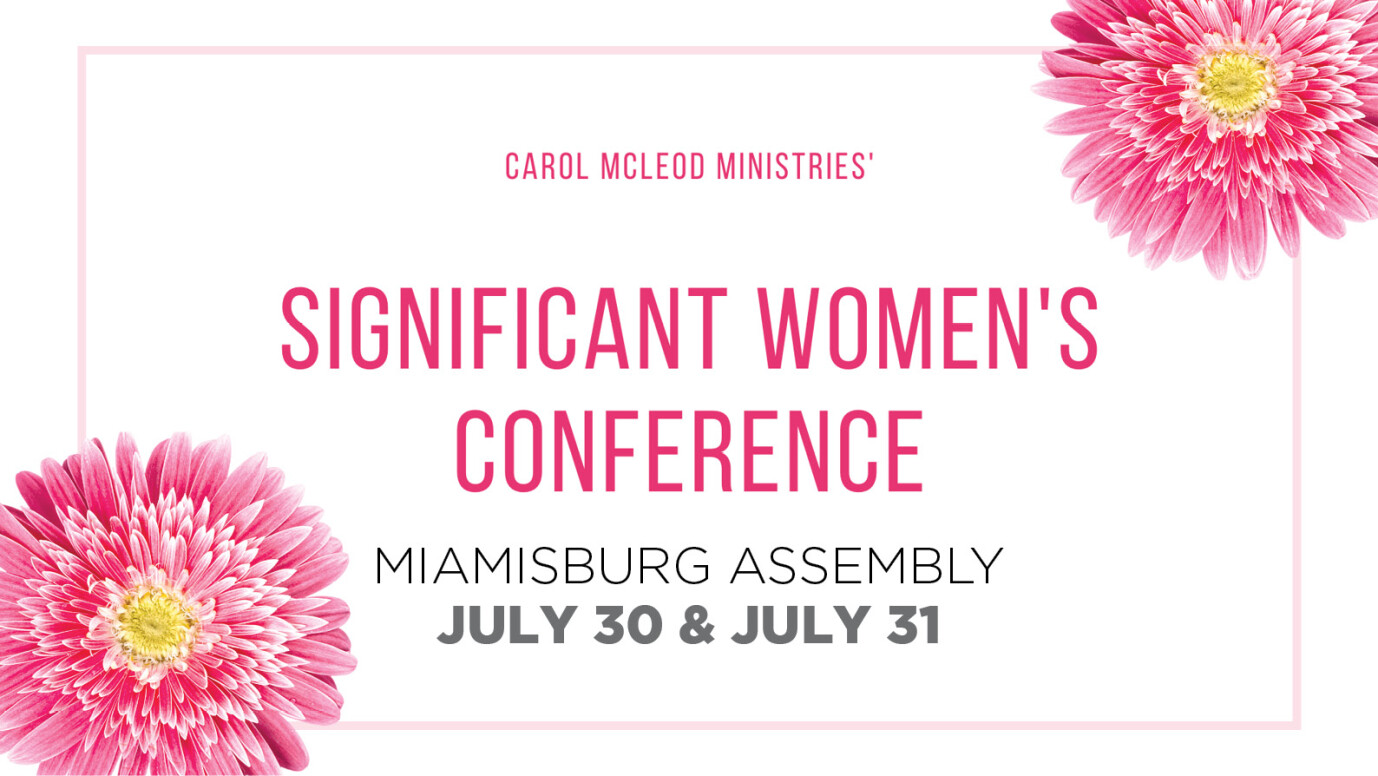 July 30, 2021 6:00pm
Address: Miamisburg Assembly of God, 501 N 9th Street, Miamisburg, OH US 45342
Cost: $25.00
Contact: Tammy SmartTammy Smart
We're VERY excited to host Significant! Conference here at Miamisburg Assembly with our friend and renowned author and speaker Carol McLeod. All of our gatherings include fantastic fellowship, encouraging words, faith-filled prayer and a lot of fun and JOY...and this will be an event to remember.
Carol teaches the Word of God with great joy and enthusiasm, encourages and empowers women with passionate and biblical messages, mixed with her own special brand of hope and humor. She's a prolific author who loves digging for truth in the Word of God, has written 11 books, including a more recent one, "Significant."
JUST ANNOUNCED...Angela Hundley from TLC and her team will be leading an amazing time of anointed praise and worship Friday evening and Saturday!
Check out some of Carol's content:
Podcast
YouVersion Plans
Bible Studies
We have an action-packed schedule planned and you'll not want to miss a minute of it.


Sign Up & Pay Today!
Cost for the full conference, including lunch on Saturday is just $25!
Register
1. In "Other" field, input $25
2. In "*" field, input "Significant"
3. Complete payment information
Tentative Schedule
(there will be no childcare provided)
Friday, July 30 evening session
Reception 6-6:45pm
7pm Opening Celebration
7:15 Praise and Worship
7:40 Giveaways and Introduce Carol McLeod
7:50 Carol McLeod
8:45 Announcements/Dismiss
Saturday July 31 morning session
Doors open at 8am registration/browse product table
8-8:45am Coffee Bar
9am Quick Welcome
9:15 Testimonies/Giveaways
9:30 Praise and Worship
10:00 Carol McLeod
Ministry time
Browse product table
12 noon Lunch
Saturday July 31 afternoon session
1pm Welcome back and Giveaways
1:15 Praise and Worship
1:40 Carol McLeod
Ministry time browse product table
3pm Conference Closes